Here's a slide montage of a GREEN SCENE's FIRST SUMMER CAMP
Use arrows to scroll through 60 photos. To see a photo closer up, double click on it
cache/wst.opf.2938762.xml

And below are journal reflections from a 4-week summer camp, funded by a Neighborhood Arts Project grant from the Chicago Department of Cultural Affairs and Special Events.

WEEK ONE - July 9-12
Garden explorations in theater and storytelling

During the week, the campers took ownership over the eight Grow2Give beds of Vedgewater community garden. Produce from these will be donated to Care For Real food pantry. Campers learned how to weed, water, dead-head plants, and were introduced to square foot planting, companion planting, and succession planting methods. Campers harvested radishes and lettuce, then planted carrots, marigolds, and eggplant. They also met senior mentor Rosalind Morris and learned about her composting methods and her edible Borage flowers. Everyone enjoyed freshly harvested lettuce salad topped with strawberries and peaches. The campers experimented with many theater games, used paintings by Vincent Van Gogh and Bob Thompson to inspire their own dramatizations, and danced on the Vedgewater stage.

Kid quote of the week: (while looking at Vincent Van Gogh's painting The Sower)
"There is this expression that goes you reap what you sow---- what does that mean?"

WEEK TWO - July 16-19
Garden explorations in music making

This week campers dug in deep exploring the value and creation of good soil. Gathering green and brown materials at a nearby park they started an experimental compost bin. Senior mentor Rosalind brought her Red Wiggler worms to lead a discussion about Vermi-composting and how kitchen food waste is turned into rich soil with worm castings. Campers worked their eight garden beds by weeding, squashing out those pesky cucumber beetles, harvesting, and succession planting. Green Scene delivered its first harvest to Care for Real Food Pantry: Chin Chiang cabbages, arugula, lettuce, beans, and swiss chard. Campers also explored sound and music-making using movement and voice, then adding garden tool instruments.
The good old leaf rake creates a nice cadence! The week ended with a traditional watermelon seed-spitting contest.

Kid quote of the week: (referring to the dolly that we use to haul the 60 gallons of water to our beds)
"Oh yea! We call this thing the Green Scene Express On-The-Go!"


WEEK THREE - July 23 to July 25
Garden explorations in African Dance

Campers learned about the "Three Sisters Garden," a Native American planting method that cooperatively grows corn, beans, and squash in mounds. Rosalind taught the campers how to fold origami harvest boxes and seed saving envelops.Campers conducted interviews of our senior mentors Rosalind and Lenny about their gardening experiences and then turned a camera lens on garden insects to capture them close-up and personal as well. During a nutrition lesson the campers munched down half a peck of delicious raw green beans with ranch dressing! They also began preparations for their BIG midsummer festival "Crops & Creations." Campers invited twenty children from the South East Asia Center to be their guests and crafted invitations for the event. They rehearsed the folktale they'll perform and had an African Dance lesson from Prince Malonga, a master drummer/dancer from Congo Brazza-Ville.

Kid quote of the week: (while building a bird deflecting device)
"Wow! At this camp I'm learning gardening, theater, and now . . . carpentry!"
WEEK FOUR - July 30 to Aug 2
Garden explorations in growing community
Presenting "Crops & Creations Festival"

The Green Scene campers prepared for their "Crops & Creations" festival by rehearsing, crafting costumes, making sun tea to serve to their audience, and prepping to teach their visitors about composting, pollination, and companion planting practices. The festival was a success and the guest turn-out was an estimated 60 members of the Edgewater community including other campers from the South East Asia Center, members of Letsgochicago, Prince Malonga and the Congo drummers, friends, family and the community gardeners from Vedgewater. Visitors learned about Green Scene's garden practices, sipped tea, harvested beans together, and folded Origami harvest boxes with Rosalind. When the campers performed their folk tale "Anansi and the Magic Stick" it was met with smiles and laughter. The African Dance lesson that followed brought everyone together in a ground-thumping dance jam. It was a splendid way to reach out to our community and celebrate all that grew out of the hot summer.
Kid Quotes of the week:
( while prepping for the play)
" I'm excited. I've never been in a play before. I need some bling for this costume. Could you get me some rings to wear?"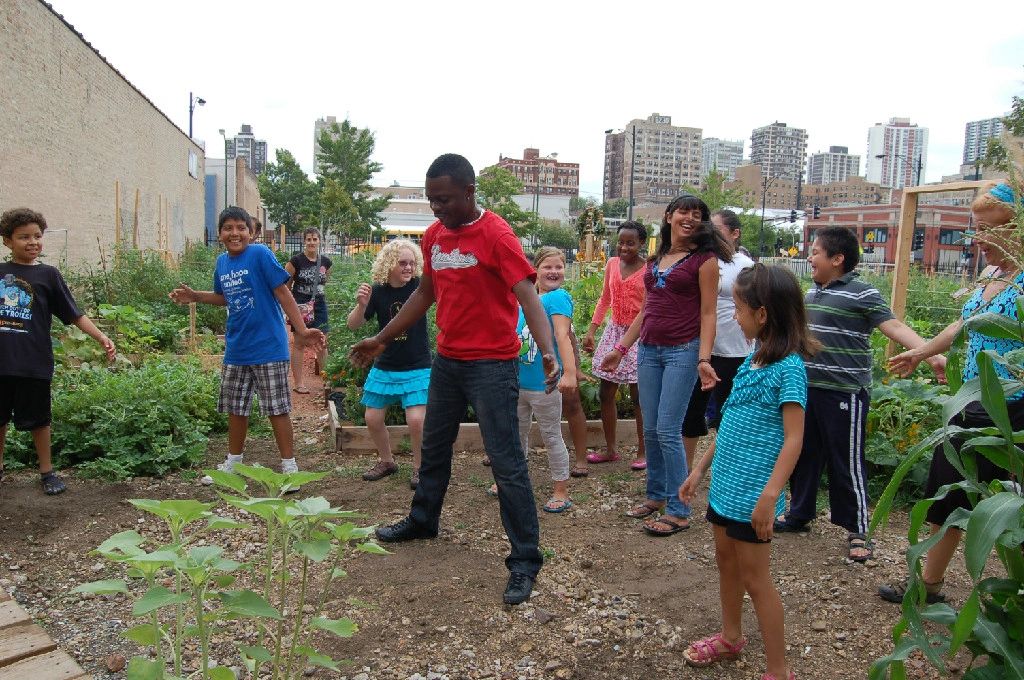 TESTIMONIALS FROM GREEN SCENE SUMMER CAMPS

You have given my children (7and 10) an amazing summer camp experience. They've enjoyed the hands on "Green" experience and fun theater exercises. We would be part of it again in the future! - R Belen

Learning about the science of planting seeds and gardening was fantastic.The play was really fun, too. The acting games were cool! - Fiona, age 11 She was even willing to try some vegetables after growing some! - Fiona's dad

He really enjoyed getting in the dirt to harvest the veggies and enjoying the fruits of his labor, the opportunity to perform, the African drummers, and presenting all he had learned to parents and children visiting from other camps. I am grateful because I knew I was leaving him in the care of people so nurturing and eager to share their knowledge with a "city kid" who might not otherwise be exposed to gardening. - N Hilario

My daughter had such a fun time at garden camp. She is definitely on for next summer. She loved eating string beans from the garden and showing me all that was growing. And eating flowers too! - D Northey